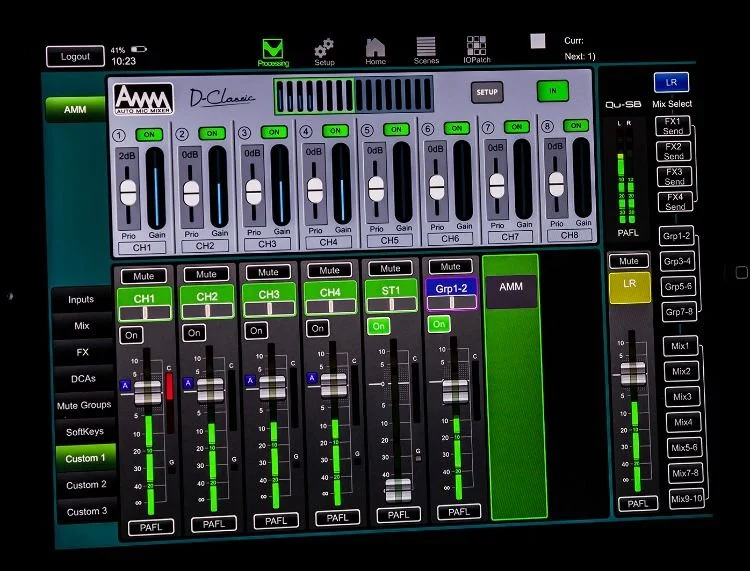 Freedom to mix anywhere with the Qu-Pad app
Add Allen & Heath's Qu-Pad iPad app to your rig and you'll have the freedom to adjust your monitors from onstage, tweak the PA while roaming about the venue, then mix the show from FoH. You can personalize the GUI to create your own control panel, perfect for offering customized control for any application. Whether you're mixing your band live, recording in the studio, or you're in charge of setting up a permanent sound installation for your school, church, or company conference hall - Sonido Live has found the Allen & Heath Qu-SB to be an outstanding solution that's at once flexible, scalable, and rock-solid reliable.
AnalogiQ preamps and 24-bit conversion, for warm, musical sound
Allen & Heath fortified the Qu-SB with 16 of their superb AnalogiQ total-recall preamps. Featuring phantom power, zero crossing detection, and a unique padless 1dB-step gain stage, the preamps are married to the DSP for optimum transparency and gain accuracy. The analog signal is captured by high-quality, low-latency 24-bit A-D converters matched to high-grade 24-bit D-A converters. A&H has spent considerable time refining the AnalogiQ design so it gives you stellar transparency, with minimum distortion and a vanishingly low noise floor.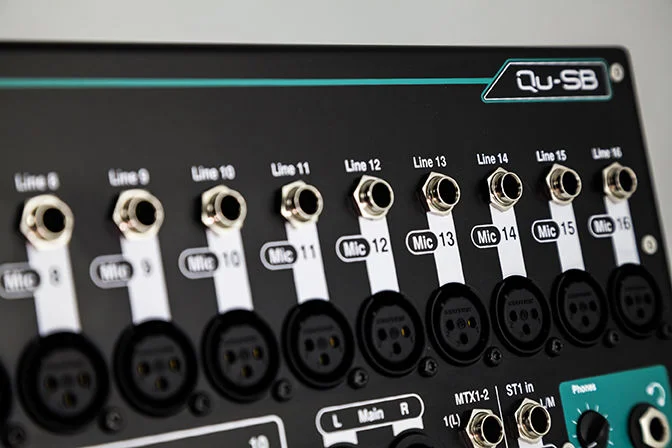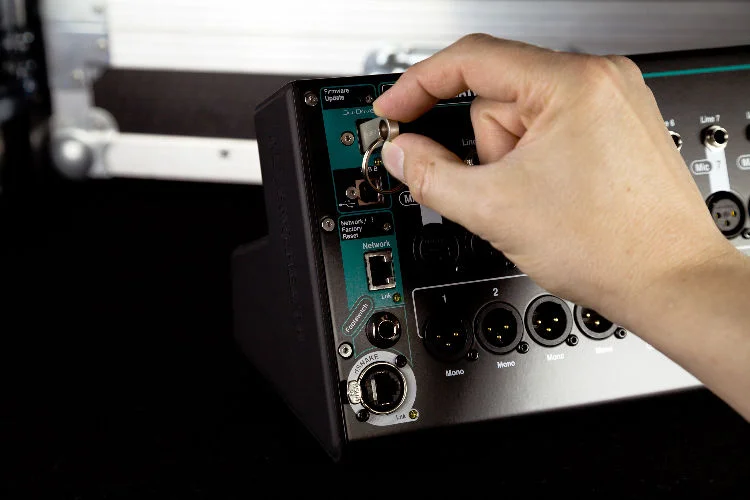 Power-packed with smart features
If anyone knows live mixing, Allen & Heath is at the forefront. That's why they're able to load the Qu-SB with smart features you'll come to rely on, night after night. Like a built-in interface that streams multitrack audio to your Mac or PC via a flexible patching system. Or the integrated multitrack USB recorder that gives you 18 channels of 48kHz, 24-bit recording and playback straight to and from your USB hard drive. Impressive? How about every channel being outfitted with Channel Ducker, which provides auto signal attenuation for an endless number of applications? Or compatibility with A&H's ME Personal Mixing System? This allows any number of optional ME-1 personal mixers be chained from Qu-SB's dSnake port (or from an AR2412 / AB168 AudioRack, if you've got one connected), giving each performer control over his or her own mix and leaving the engineer free to concentrate on the audience experience.
Powerful functionality added in v1.9 software
The Qu series ecosystem is constantly being refined, and v1.9 of the Qu software adds even more functionality. More mic presets for Shure, Sennheiser and Audio-Technica mics are now available, making it easier than ever to dial in great sound fast with any mic in any application. You'll find a ton of advanced iPad control options too, like the ability to patch channels between dSnake, USB, Qu Drive and ME personal monitoring systems. You can set up various User profiles with different levels of permissions, manage your Scene memory, Copy/Paste channel settings, and manage USB devices. And v1.9 adds Windows DAW control support, for all popular Windows platforms.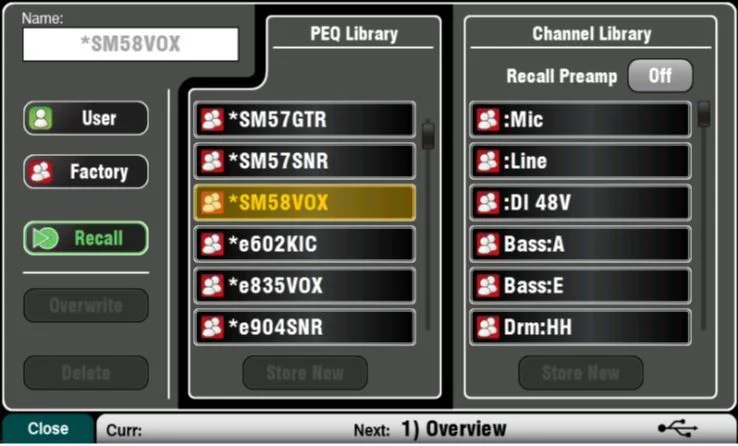 Allen & Heath Qu-SB Portable Digital Mixer Features:
16-channel portable digital mixer
16 AnalogiQ mic preamps with total-recall capability
Expandable up to 32-in/24-out using dSNAKE AudioRacks (not included)
Supports up to 11 monitor mixes (4 mono, 7 stereo)
Four effects engines drive four dedicated effects Sends/Returns
4 Mute Groups and 4 DCA Groups help you manage larger mixing tasks
Qu-Pad iPad App for all live mixing controls
Qu-You iPhone App for personal monitoring
Qu-Drive direct Multitrack recording and playback on USB drives
Trim, polarity, HPF, gate, insert, 4-band PEQ, compressor, delay on all Inputs
Insert, 4-band PEQ, 1/3 octave GEQ, compressor, delay on all Outputs
ProFactory Mic Presets provides EQ presets for popular industry-standard microphones
Automatic Mic Mixer manages mic levels automatically, perfect for conferences, meetings and panel discussions