Ultra-portable Mixer with Impressive Features
The Allen & Heath ZED60-10FX adds solid-feeling 60mm faders to their popular ZED-10FX mixer. It's great for guitarists — two of its four mono channels boast high impedance input jacks that re-create the warmth and character of a classic tube preamp. The ZED60-10FX's responsive 3-band EQ design features A & H's MusiQ — a variable Q that makes optimizing each instrument's tone settings a breeze. You also get high-quality built-in digital effects, and stereo USB audio connectivity for capturing quick recordings. Complete with comprehensive monitoring and effective metering, you can't go wrong with the ZED60-10FX.
Guitar DIs deliver tube-like warmth and character
The ZED60-10FX is loaded with four great-sounding mic preamps, based on Allen & Heath's MixWizard range of mixers. But the ZED60-10FX takes it a step further with the inclusion of high impedance input jacks on inputs 3 and 4. These inputs allow you to plug your guitar straight into the board without a DI box. And best of all, they impart a tube-like warmth and character that's guaranteed to add power and definition to your guitar tone. The musicians here at Sonido Live appreciate the convenience and sound quality afforded by the ZED60-10FX's built-in DIs.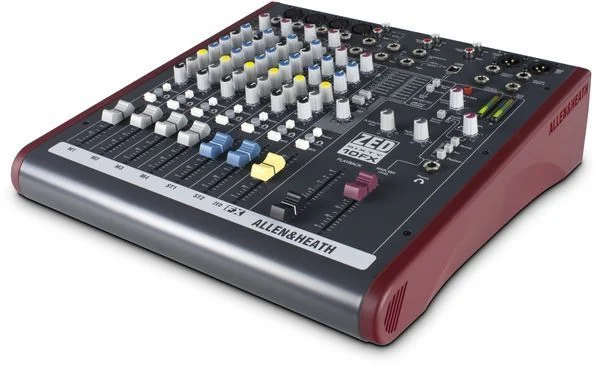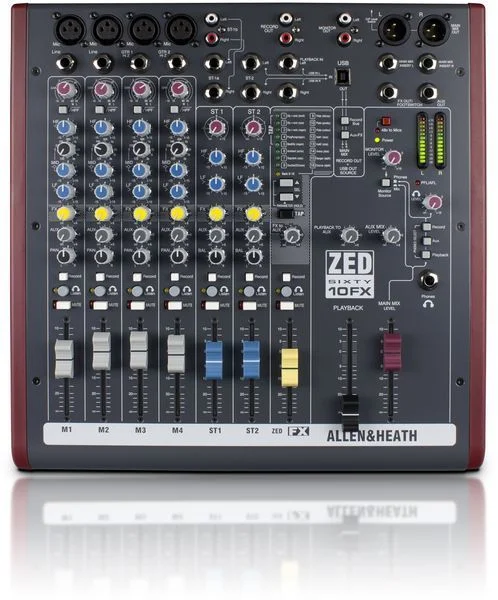 MusiQ provides fast, easy sound shaping
Dialing in each instrument's tone settings is easy with the ZED60-10FX. Its responsive three-band, swept mid-frequency EQ design employs Allen & Heath's innovative MusiQ, which is essentially a variable Q that automatically optimizes your EQ settings. Thanks to MusiQ, beginners can achieve musically pleasant EQ settings with the ZED60-10FX with little effort.
Flexible USB connectivity for Mac and PC
Getting audio in and out of your computer with the ZED60-10FX is a simple plug-and-play operation. Just plug in, select the USB routing on the mixer and your computer, and you're ready to pipe CD-quality audio into and out of your Mac or PC. The ZED60-10FX allows different signals to be sent to USB, from LR or from selected aux buses. The USB return signal can be routed straight to the LR mix or to a stereo channel.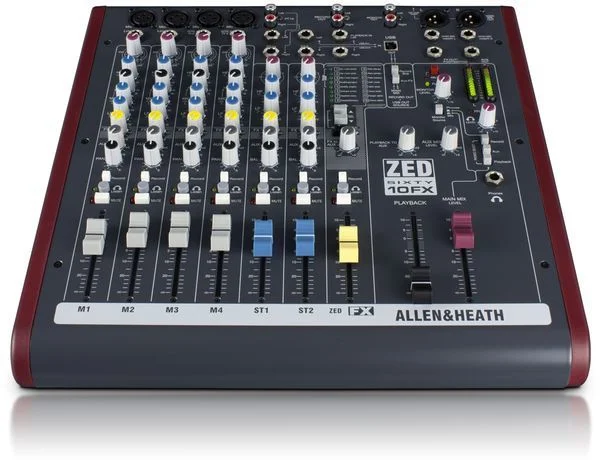 Built-in FX Presets:
Dly+verb(level)
Dly+verb(size)
Dly+verb(regen)
PingPong(regen)
BeatDly(Regen)
Ambient(echo)
SlapVerb(size)
DoubleZED(size)
Plate(decay)
Plate(predly)
Plate(colour)
Hall1(size)
Hall2(size)
Arena(size)
Flanger(dpth)
Chorus(dpth)
Allen & Heath ZED60-10FX Features:
Adds solid-feeling 60mm faders to the popular ZED-10FX mixer
4 mic/line channels, 2 with guitar DIs that re-create the warmth and character of a classic tube preamp
3 stereo channels for keyboards and other stereo sources
3-band EQ design with MusiQ for quick, easy optimization of your EQ settings
High-quality built-in digital effects for polishing your sound
Stereo USB audio connectivity for capturing quick recordings
Comprehensive monitoring and effective metering
Rugged Neutrik XLR and 1/4" connectors