---
✅  In Stock and Ready To Ship 
✅  FREE Ground Shipping 
Soul of a Classic EQ
At Sonido Live, the name Pultec commands reverence. Magical tools revered for their ability to improve the sound of audio simply by passing signal through them. Pultec equalizers like the EQP-1A are the stuff of legend. They're all over many of your favorite records. Rare vintage units cost a pretty penny — if you can even find one in good working order. Enter the Klark Teknik EQP-KT Classic Tube Equalizer. Inspired by the classic Pultec, the EQP-KT is a vintage Class A circuit design constructed from top-drawer discrete components meticulously selected to meet or exceed the specs of the original EQP-1A. Combining unparalleled precision and signal integrity with the warmth of its all-tube circuitry, Klark Teknik EQP-KT delivers mastering-grade EQ at a price any project studio can afford. You can't afford to be without one.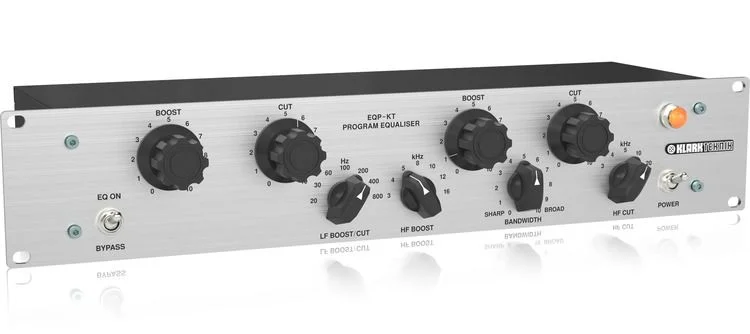 A modern take on a classic tube design
Ever since Eugene Shenk's original designs in the mid-1950s, engineers have prized Pultecs for their smooth, musical sound, and have used them at all stages of the recording process, from tracking to mastering. To achieve the characteristic warmth of this legendary EQ, Klark Teknik uses hand-selected 12AX7 and 12AU7 tubes. And for optimal audio reproduction in studio and live environments, Klark Teknik incorporated custom Midas input and output transformers into the EQP-KT design. This combination of high-quality components delivers ultra-low-noise output with tight, punchy bass, silky midrange, and brilliant, airy highs.
Boost, cut, or both — it all sounds great
Take a look at the EQP-KT — or a Pultec EQP-1A — and you'll see they're not designed like your typical equalizer. The two-band design basically gives you flexible low shelving, along with broad-bandwidth midrange peak control. Because the boost and attenuate controls work independently you can use an old trick to add weight to the bass region while also notching a bit above the cutoff point, by boosting and attenuating at the same time (try it on kick drum and you'll never look back). On the high-frequency side, you can set separate ranges for the boost and attenuation. Said another way, you can boost at 12kHz and cut at 5k, adding "air" to a track without increasing presence.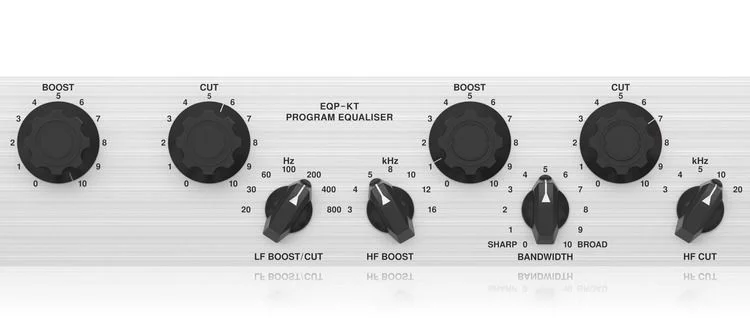 Klark Teknik EQP-KT Classic Tube Equalizer Features:
1-channel, 2-band equalizer based on the legendary Pultec EQP-1A
All-discrete Class A circuitry for optimal signal integrity
Premium hand-selected 12AX7 and 12AU7 tubes
Custom Midas input and output transformers
Switchable frequency selectors with up to 7 frequency points
Independent boost and cut controls for huge creative potential
Variable bandwidth control for broad sound sculpting
Inductor-based equalizer circuit
Bypass feature for convenient A/B comparison
Transformer-balanced I/O on Neutrik XLR connectors
Rugged, attractive 2U rackmount chassis
Auto-ranging universal switch-mode power supply
3-Year warranty
Tech Specs
Type:

Tube EQ

Number of Channels:

1

Tube:

12AX7, 12AU7

Inputs:

1 x XLR, 1 x 1/4"

Outputs:

1 x XLR, 1 x 1/4"

Number of Bands:

2-band

Q Type:

Variable

Freq Range High:

5kHz, 8kHz, 10kHz, 12kHz, 16kHz

Freq Range Hi-Mid:

3kHz, 4kHz

Freq Range Mid:

800Hz

Freq Range Lo-Mid:

200Hz, 400Hz

Freq Range Low:

20Hz, 30Hz, 60Hz, 100Hz

Rack Spaces:

2U

Manufacturer Part Number:

EQPKT
---
Share this Product