A compact mixer-recorder for live sets and podcasting
We all know performers who freeze when the record light goes on. So it just makes sense to capture a band or group in their natural element, whether that's onstage feeding off the crowd or sitting around a table casually strumming a guitar. The PreSonus StudioLive AR16 USB makes it easy to record full sets and podcasts while you're mixing. You can capture the whole show live in stereo to an SD card, or send all tracks to the included Studio One DAW software for later tweaking.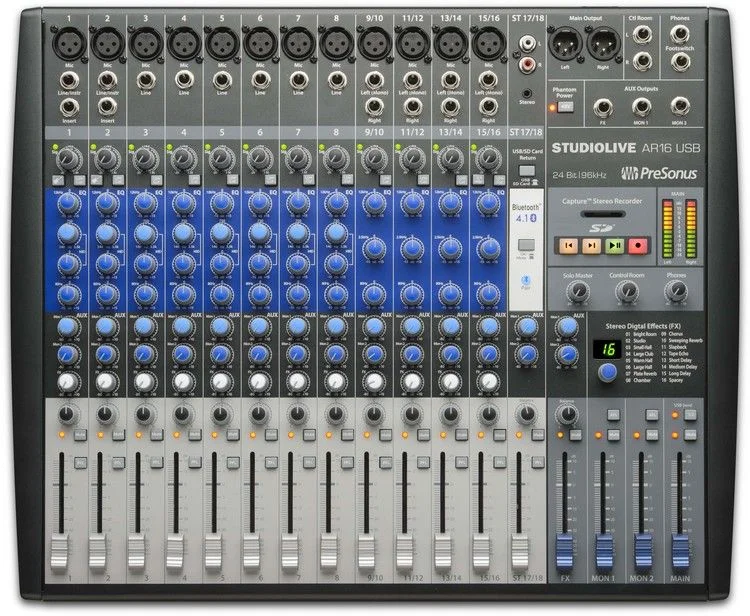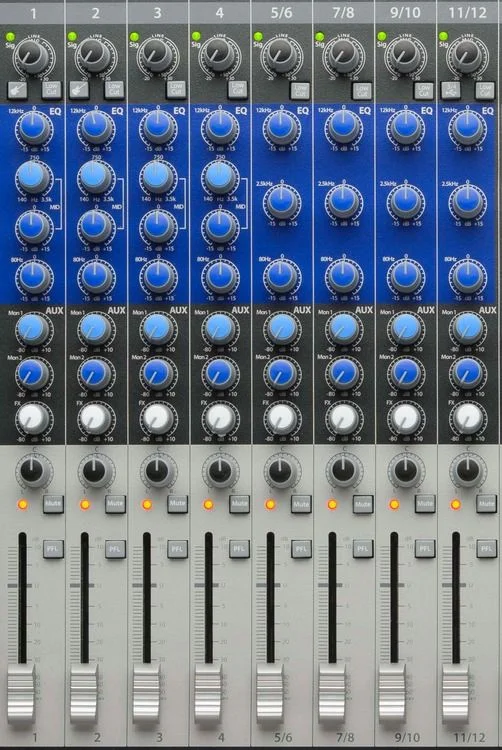 Clean Class A mic pres and analog 3-band EQs preserve tone
Sonido Live knows the heart of any good mixer is its signal fidelity. That's why we're pleased to see the StudioLive AR16 USB packed with quality audio circuitry: low-noise Class A preamps, analog semi-parametric channel EQs, and musical low-cut filters. Smooth 60mm faders let you ride vocal levels between choruses or tame guitar signals after the lead player turns up. Dedicated Monitor, Main, Headphone, and Control Room controls ensure your room and talent can hear everything comfortably.
Dedicated Bluetooth 4.1/aux channel gets guests dancing
Running out of tracks for your music player is a bummer. So is calling everyone in your contacts list at 10PM to see if anyone has a spare 1/8"-to-1/4" adapter plug. But these are problems of the past with the StudioLive AR16 USB. Powerful, easy-pairing Bluetooth 4.1 connects to any compatible mobile device in seconds to ensure your dance floor never goes quiet. Older iPods and music devices with standard headphones can be used, too, thanks to a dedicated 3.5mm stereo aux jack.

FREE plug-in suite for your favorite DAW
PreSonus delivers more value than ever with their mixers and interfaces, thanks to the Studio Magic Plug-in Suite. This extensive collection of seven popular plug-ins covers models of top studio gear from manufacturers such as Maag Audio, Lexicon, and Arturia, adding up to hundreds of dollars of extra value. Punch up your mix bus with Brainworx's bx-opto, add ambience with Eventide's SP2016-inspired Stereo Room reverb, fire up transients with SPL's Attacker, and much more. And since these plug-ins are available in AAX, VST, and AU formats, they're compatible with any DAW you choose.

PreSonus StudioLive AR16 USB Analog Mixer Features:
Records multitrack audio as you mix — great for live sets, rehearsals, and podcasting
Makes a capable front end for your home studio
Sends all main tracks to Studio One Artist 3 DAW software (included)
Onboard 32GB HCSD card reader records full shows in stereo for instant access
8 mono and 4 stereo channels with +48-volt phantom, pan, mute, and PFL solo
12 Class A mic preamps capture clean vocals, guitars, and drums
12 analog 3-band EQs, semi-parametric and fixed, to sculpt your mixes
Musical low-cut filters prevent mix mud buildup
16 digital reverbs, delays, and chorus add space and texture to sources
Dedicated Bluetooth 4.1 channel streams audio from your phone — also has stereo and phono inputs for other music players
Smooth 60mm level faders for quick adjustments to fine vocal riding
2 monitor buses with dedicated channel sends
Stereo XLR outs for loudspeakers, plus outputs for studio monitors, stage monitors, and headphones
Supports USB 2.0